Meet the participants of the 2nd stage of the Golden Site 2021 competition in the Warmian-Masurian Voivodeship – the City of Elbląg
The city of Elbląg is one of the largest cities in the north of Poland. It is also the largest port of the Vistula Lagoon. Located by the Elbląg River, it provides coastal freight and passenger navigation on the Vistula Lagoon and the Baltic Sea.
Two national roads run through the Elbląg ring road: the S7 connecting Elbląg with Gdańsk, Warsaw and Kraków, and the S22 being the shortest connection between the west and east of Europe.
Elbląg is an important industrial center, incl. heavy, food, furniture and tourism industries.
Demography and the labor market
Population:
Elbląg County: 57 211
the City of Elbląg: 119 317
Unemployment rate in the county: 5.7%
Number of unemployed in the City of Elbląg: 2 311
Advantages of the location:
Intersection of national roads S7 (Gdańsk-Warsaw-Kraków) and S 22 (Berlin-Kaliningrad)
Location by the Elbląg River (water connection with the Baltic Sea through the Vistula Lagoon)
30 minutes to the Tri-City, 40 minutes to the airport in Rębiechowo.
2 higher education institutions, 26 secondary schools
Human potential of about 120,000 people
Impact area – approx. 330,000 thousand
After hours: museums, art galleries, festivals, shopping centers, fairs, theater, cinemas, hotels, restaurants, clubs, pubs, stadiums, indoor swimming pools, playgrounds, sports halls, bowling, yacht marinas, airport – aeroclub, ice rink, tennis courts, climbing wall, golf course (Pasłęk), skating and roller-skating track, Bażantarnia – nature park.
In the second stage of the Golden Site competition, there was an investment area – Żuławska
The winners of the Golden Site 2021 competition (1 in each voivodeship) will be announced in the fall.
| | |
| --- | --- |
| Name | Żuławska |
| Area | 3,40 |
| Local zoning plan | production, warehouses, storage |
| infrastructure | |
| electricity | yes |
| water | yes |
| sewage | yes |
| gas | no |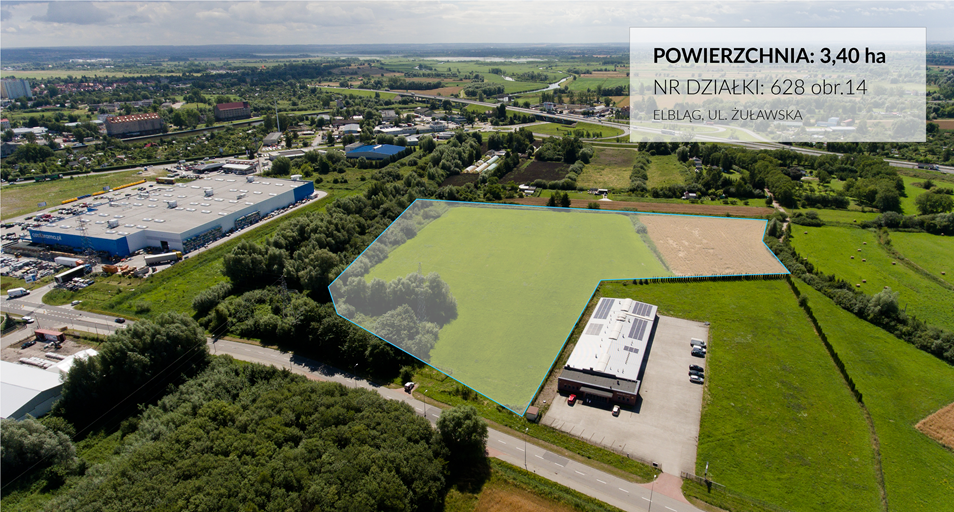 Detailed information about the offer – Site Check List.
If you are interested in this investment offer, please contact Warmia and Mazury Investors and Exporters' Service Centre: coie@warmia.mazury.pl, tel. 89 512 51 82 lub 89 512 51 70.